Pistola Airsoft GBB Action Army AAP-1 Assassin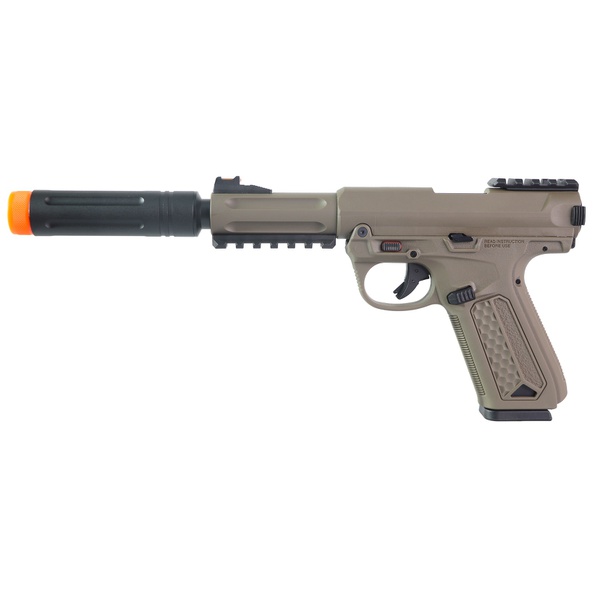 Pistola Airsoft GBB Action Army AAP-1 Assassin
Ref.:

action army aap-1 assassin
Pistola Airsoft GBB Action Army AAP-1 Assassin - os últimos lançamentos em airsoft estão na Azsports, Pistolas gbb lançamentos confira!
R$ 2.100,94 em 12x de R$ 175,08
ou
R$ 1.890,85
10%
à vista
| | |
| --- | --- |
| 1x de R$ 2.100,94 sem juros | |
| 2x de R$ 1.050,47 sem juros | |
| 3x de R$ 700,31 sem juros | |
| 4x de R$ 525,24 sem juros | |
| 5x de R$ 420,19 sem juros | |
| 6x de R$ 350,16 sem juros | |
| 7x de R$ 300,13 sem juros | |
| 8x de R$ 262,62 sem juros | |
| 9x de R$ 233,44 sem juros | |
| 10x de R$ 210,09 sem juros | |
| 11x de R$ 190,99 sem juros | |
| 12x de R$ 175,08 sem juros | |
DETALHES DO PRODUTO
Pistola Airsoft GBB Action Army AAP-1 Assassin
A AAP-01 Assassin é a primeira pistola airsoft de gás blowback da Action Army Company. Famosa na comunidade de Airsoft por suas peças de atualização, a Action Army expandiu sua linha de produtos para o mercado de pistolas blowback a gás.
Alimentado por gás verde, o AAP-01 é capaz de disparar tanto semiautomático quanto totalmente automático, girando o seletor de fogo na parte inferior do porta-ferrolho. Todos os controles, como a trava do carregador, segurança e trava deslizante são ambidestros ou reversíveis, tornando a pistola amigável para usuários destros ou canhotos. O cano é de 14 mm CCW rosqueado por baixo do protetor de rosca laranja, tornando-o compatível com a maioria dos dispositivos e acessórios de focinho Airsoft.
Com um design totalmente novo e original externamente, o AAP-01 ainda mantém muitas compatibilidade cruzada interna com as atuais pistolas de gás. O hop-up e o contrabalanço são o padrão TM padrão, e o carregador é baseado nos designs de pistola da série G. Além de seu próprio magazine de 22 cartuchos, o AAP-01 também é compatível com os magazine da série G KJW, WE e VFC, ou qualquer outro magazine com as mesmas especificações.
Especificações Técnicas

Fabricante : Action Army
FPS: 312
Color: Black


Specifications:
Comprimento: 129mm
Peso: 648g (1.43lb)
Capacidade magazine: 22rds. Works with Action Army and TM-spec G-spec Airsoft pistol magazines.
Fire Modes: Semi-Auto, Full-Auto
Gas Type: Green Gas
Contem na caixa : Pistola, Magazine, Manual
A Action Army Company foi fundada em Taiwan em 2010. A.A.C se concentra em oferecer produtos Airsoft de alta qualidade, todos feitos em Taiwan. Tentamos construir novos produtos com novos materiais e novos sistemas para obter mais eficiência.


chame nosso atendimento online para possível cupom de desconto
Azsports informa :
AIRSOFT E AIRGUNS AZSPORTS INFORMA QUE : ARMAS DE AIRSOFT E AIRGUNS tem suas fotos meramente ilustrativas, podendo ocorrer pequenas variações de cores devido a ângulos e resoluções.
A VENDA DE ARMAS DE PRESSÃO É PERMITIDA SOMENTE A MAIORES DE 18 ANOS.
Todos os produtos estão de airsoft, espingardas de chumbinho, carabinas pcp e pistolas de ar comprimido e acessórios rigorosamente dentro das especificações legais da legislação brasileira e loja autorizada pelo Exército Brasileiro a vender armamentos de airsoft / pressão.

Lunetas, Red dots não são produtos controlados e podem ser vendidos sem a necessidade de documentação especifica. Necessário somente o Rg ou CNH para comprovação da maior idade.
OS PREÇOS E CONDIÇÕES ESTÃO SUJEITOS A ALTERAÇÃO E VARIAÇÃO DE ESTOQUE SEM AVISO PRÉVIO
RESERVAMOS AO DIREITO DE CORRIGIR ERROS DE PUBLICAÇÃO E/OU VALORES SEMPRE QUE FOR NECESSÁRIO A QUALQUER TEMPO SEM NECESSIDADE DE AVISO PRÉVIO.
AIRSOFT E ARMAS DE PRESSÃO NÃO SÃO BRINQUEDOS, DEVEM SEMPRE SER MANUSEADAS COM EQUIPAMENTO DE PROTEÇÃO NOS OLHOS, EM LOCAIS APROPRIADOS E COM A DEVIDA LEITURA DO MANUAL DE USO DO ARMAMENTO. A INOBSERVÂNCIA PODE CAUSAR SÉRIOS DANOS A SAÚDE DO OPERADOR E DE TERCEIROS.
JAMAIS APONTE UMA ARMA DE AIRSOFT EM LOCAIS INAPROPRIADOS OU FORA DE ESPAÇOS DE JOGOS . Carabinas de pressão devem sempre ser utilizadas para esporte, lazer, tiro esportivo em áreas seguras
pedimos especial atenção de selecionar o frete por transportadora para compra de qualquer armamento de pressão airsoft ou airgun
A LOJA AZSPORTS ENVIA SEUS PRODUTOS PARA TODO BRASIL VIA TRANSPORTADORA QUALQUER Dúvida CONSULTE NOSSO TIME DE ATENDIMENTO ONLINE
SOLICITAMOS O CONTATO COM NOSSO DEPARTAMENTO DE VENDAS PARA VERIFICAR A DISPONIBILIDADE DO PRODUTO NO MOMENTO DA COMPRA