Pistola Airsoft GBB Action Army AAP-1 Assassin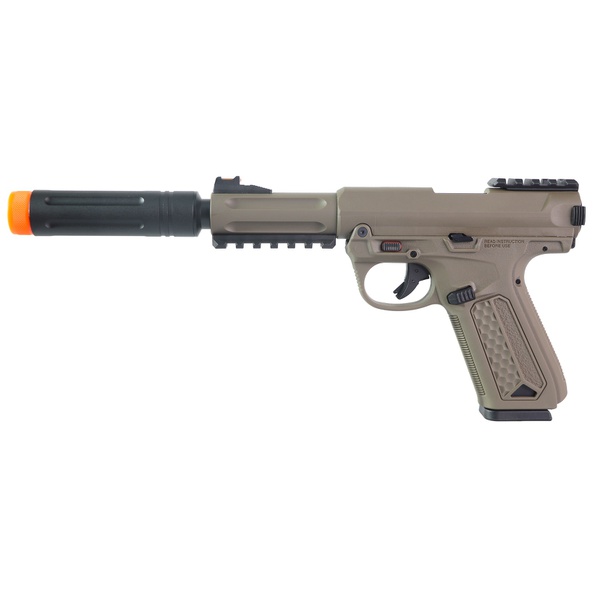 Pistola Airsoft GBB Action Army AAP-1 Assassin
Ref.:

action army aap-1 assassin

Disponibilidade:

Até 15 dias Úteis
Pistola Airsoft GBB Action Army AAP-1 Assassin - os últimos lançamentos em airsoft estão na Azsports, Pistolas gbb lançamentos confira!
R$1.990,00 em 10x de R$199,00
ou
R$1.791,00
10%
à vista
| | |
| --- | --- |
| 1x de R$ 1.990,00 sem juros | |
| 2x de R$ 995,00 sem juros | |
| 3x de R$ 663,33 sem juros | |
| 4x de R$ 497,50 sem juros | |
| 5x de R$ 398,00 sem juros | |
| 6x de R$ 331,67 sem juros | |
| 7x de R$ 284,29 sem juros | |
| 8x de R$ 248,75 sem juros | |
| 9x de R$ 221,11 sem juros | |
| 10x de R$ 199,00 sem juros | |
DETALHES DO PRODUTO
Pistola Airsoft GBB Action Army AAP-1 Assassin
A AAP-01 Assassin é a primeira pistola airsoft de gás blowback da Action Army Company. Famosa na comunidade de Airsoft por suas peças de atualização, a Action Army expandiu sua linha de produtos para o mercado de pistolas blowback a gás.
Alimentado por gás verde, o AAP-01 é capaz de disparar tanto semiautomático quanto totalmente automático, girando o seletor de fogo na parte inferior do porta-ferrolho. Todos os controles, como a trava do carregador, segurança e trava deslizante são ambidestros ou reversíveis, tornando a pistola amigável para usuários destros ou canhotos. O cano é de 14 mm CCW rosqueado por baixo do protetor de rosca laranja, tornando-o compatível com a maioria dos dispositivos e acessórios de focinho Airsoft.
Com um design totalmente novo e original externamente, o AAP-01 ainda mantém muitas compatibilidade cruzada interna com as atuais pistolas de gás. O hop-up e o contrabalanço são o padrão TM padrão, e o carregador é baseado nos designs de pistola da série G. Além de seu próprio magazine de 22 cartuchos, o AAP-01 também é compatível com os magazine da série G KJW, WE e VFC, ou qualquer outro magazine com as mesmas especificações.
Especificações Técnicas

Fabricante : Action Army
FPS: 312
Color: Black


Specifications:
Comprimento: 129mm
Peso: 648g (1.43lb)
Capacidade magazine: 22rds. Works with Action Army and TM-spec G-spec Airsoft pistol magazines.
Fire Modes: Semi-Auto, Full-Auto
Gas Type: Green Gas
Contem na caixa : Pistola, Magazine, Manual
A Action Army Company foi fundada em Taiwan em 2010. A.A.C se concentra em oferecer produtos Airsoft de alta qualidade, todos feitos em Taiwan. Tentamos construir novos produtos com novos materiais e novos sistemas para obter mais eficiência.


chame nosso atendimento online para possível cupom de desconto